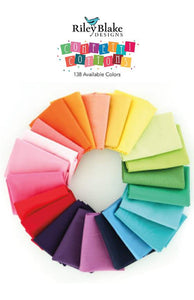 Confetti Cottons Solids Swatch Card 1 // Confetti Cotton
This swatch card includes actual fabric swatches of each color in the Riley Blake Designs Confetti Cottons collection. Includes 138 fabric swatches, about 1.5" x 2" on a sturdy fold out heavy poster cardstock. It has a hold-punched edge so you can easily keep all your swatches in a binder.
Card 1 of 2.
Card 2 sold separately, which includes 19 new colors released in December 2020.
Riley Blake Designs Confetti Cottons solid fabric is a premium quilting cotton that has a soft hand. Use it in your traditional or modern quilts, or on their own for a contemporary quilt style.
See all the Confetti Cotton basics by Riley Blake.
---
We Also Recommend
---