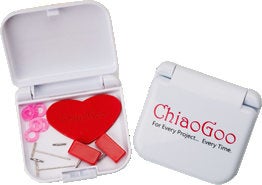 Interchangeable Tool Kit for ChiaoGoo Twist Mini Coded IC
This Mini Tools Kit by ChiaoGoo comes with a gripper, two end stoppers, two cable connectors, six stitch markers and two tightening keys.
[M] Mini Coded
To be used with the TWIST MINI Interchangeable system only.
Heart-Shaped Rubber Gripper (Item 2599): Help secure your interchangeable tip to cable connection by using these heart-shaped, rubber grippers. Take the "extra grippy" back side and wrap the gripper around the tip. Use it with the tightening key to help get a good grip and tighten the screw connection. 
Stitch Markers (Item 1090): These fun stitch markers are made of resin and come in 4 different colors. (one size per color).
Cable Connectors (Item 2501-M): "Tic tac" sized pieces allow you to join two or more cables together. MINI connectors only work with the MINI cables and tips. These will not fit on [S] coded cables or [L] cables.
End Stoppers (Item 2502-M): Red rectangular-shaped resin pieces screw into your cable ends to hold a current project while using the tips for another project. Red end stoppers fit onto all MINI TWIST cables & will not fit [S] coded cables or [L] coded cables.
Tightening Keys (Item 2503-M): When screwing in your tips, connectors or stoppers, insert this tightening key(s) into the lifeline hole found on each metal join at the ends of your TWIST & SPIN cables, connectors or stoppers. Simply use the key as a handle to help you grasp and tighten the screw connection. Use the key EVERY time you attach your tips to a cable. For an even better connection, try using our heart-shaped rubber gripper wrapped around the tip with the key. You will need the key to loosen the connection when removing the tips from the cable. 
---
We Also Recommend
---